As we approach our favorite time of the year here at MobileStrong… HUNTING SEASON, we are thinking about vehicle preparations needed to insure we have a successful season.
More preparation now means more hunting time later!
You may not be aware, but we have some die hard hunters here at MobileStrong. The first suv and truck storage boxes we ever made were used, by us, to store and organize our hunting gear!
Avoid Common Problems
No matter what, where or when you are hunting, its always a good idea to be prepared to avoid common problems like breakdowns, getting stuck, your vehicle interior getting trashed, or losing those important items amid the non-important ones. We polled our readers, social followers and MobileStrong team to come up with a great list of suggestions on How to Prepare your Vehicle for Hunting Season, here are the results.
How to Prepare your Vehicle for Hunting Season
General Vehicle Maintenance
Service your vehicle and make sure it is in good working order, check the battery, fluids, brakes, suspension
Make sure your tires are in good shape and you have a spare, jack and lug wrench
If you will be traveling some rough terrain, off road tires may be a safe bet
@HuntingLife reiterated how important tires are by sharing a tire review by them
General Vehicle Protection
No matter which season, hunting is a dirty sport.
Invest in seat covers to protect your upholstery
Vehicle specific floor mats/trays that offer a custom fit are invaluable in keeping your carpet in good condition
For pick-up trucks, a tonneau cover or topper can protect your valuables from the weather and from theft
Important Items to keep in Your Vehicle
General
General tools, shovel, hatchet, jumper cables, batteries, cell phone charger and portable power pack, tarp, lighting, tow strap, shackles, check trailer hitch and ball
Stuart from ND recommends checking your tow strap, shackles, removable trailer hitch and ball – he also packs a 25 ft length rope and small spool of medium gage wire (not electrical)
Emergency Items – Safety First
Flares, wool blanket, extra clothes, food, water, first aid kit, peroxide and ace bandages, matches, fire extinguisher, Kitty litter/chains for tires
Organize your truck bed or suv cargo area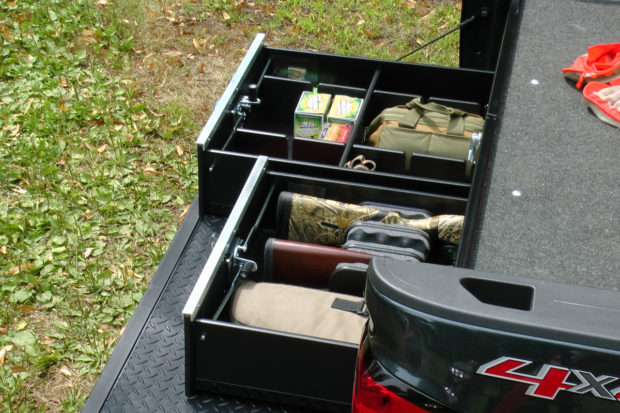 A little bit of organization can go along way when you have so many things to keep track of.  There are a handful of really nice truck and SUV organizers out there, but from one hunter to another… we are going to shamelessly plug our own SUV and Truck Storage Drawers because we love them, we use them, and we stand behind our products 100%!
Weatherproof, lockable storage drawers protect your gear and valuables (combo locks also available)
Drawer Dividers compartmentalize your items for better organization
Gun Storage is easy with our 2, 3 or 5 Gun Rack Kits
Easy installation
SUV
TRUCK
"I'm usually bird hunting and preparation is pretty simple for me.  I use the wheel well  box and put my shotguns in the top drawer with a cleaning rod then put shells an misc dog collars in the lower drawer.  My truck also has the bed slide in the remainder of the box where I can load all of my coolers, clothing bags and dog food toward the front then the dog kennel or kennels in the rear.  The good news with the bed slide I have access to everything at any time without getting on my hands and knees crawling over a bunch of gear.  I love it!"

Tim Skiba
MobileStrong CEO and Expert Huntsman
SUV/Truck Weapon Storage
It is very important to secure your weapons and ammunition whether its bows and arrows or rifles and shotgun shells.
KNOW THE LAWS – Be sure to familiarize yourself with the laws and regulations for where you are at before transporting any firearm or ammunition in your vehicle.
"By owning a mobile strong box, I can leave my hunting gear, shells and gun in there year round. We train Deutsch Kuzhaar dogs (German shorthairs) year round so the only thing I check before hunting season is for enough shotgun shells and my dog."

Joe ~ Long Grove IL
MobileStrong Customer
Hunting with Canine Partners
Protect them from rough hunting environments with a protective visibility vest
Bring extra food, canned food can help encourage poor eaters, extra collar and whistle
We hope this list is a helpful resource as you are prepping your truck or SUV for the 2018 hunting season! Happy Hunting.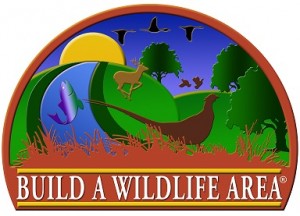 A portion of all MobileStrong sales is donated to Build a Wildlife Area.