** Always take final measurements before confirming your order.
Always measure the narrowest point from side to side and front to back. Be sure to account for any slope in the rear seats, protrusions in the rear door and cargo area, and equipment or objects already occupying the space. See our Sizing Guide for more tips.

Through a Dealer Locate a Dealer in Your Area
Can't find a Dealer?  Give us a call.

Order on our Website

Call Us

800-969-9708
 To Order Custom Size HDP Models
Print your Quote.
Fax your Quote to 1-715-598-9022.
Email your Quote to customerservice (at) mobilestrong.net.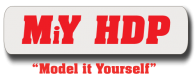 MobileStrong uses its ever expanding Dealer network to process your order and from time to time we may not have a dealer in your immediate area which may require us to process your order outside of your local area at no additional cost to you!
Save
Save
Save
Save
Save