MS WATERFOWL EDITIONS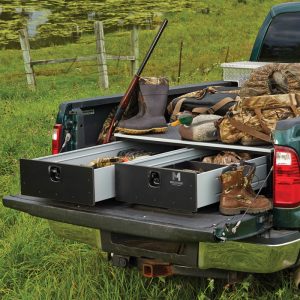 ALUMINUM alloy framework in the Composite Storage Drawer models provide an inherently lightweight solid structure to support the drawers.
Stonewood Composite (PHENOLIC) – Outer shell and drawer fronts are constructed from a composite material that is impervious to moisture and extreme heat and cold. Because of the high strength to weight ratio, this material is thinner and thus lighter than comparable plywood and MDO found in other storage units. Color finish choices:  cherry, mahogany, and black.

More Information on Phenolic: The Solid Core Phenolic Story, Material Data Safety Sheet, Solid Core Phenolic Specifications
Inner drawer BOXES are made from 18 gauge metal that is bent and ribbed for maximum stability. Along with the phenolic drawer front, there is a phenolic drawer back for added stiffening and balance. It is very durable, environmentally friendly, and weighs less than most other MDO based drawers.
HIGH DENSITY POLYETHYLENE drawer glides allow smooth movements of the metal drawer on the frame. Built to withstand years of consistent use.
MOBILESTRONG HDP MODELS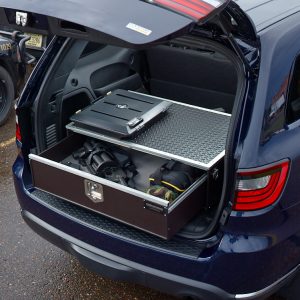 3/8" thick High Density Polyethylene (HDPE), seamless outer shell with ½ " thick HDPE drawer, built in a seamless construction.
HDPE is made from recycled content. What is HDPE?
Stainless Steel drawer locks, handles, and tie downs.
1" Aluminum tube strengthening bars for stability and durability.
Save