Risers/Foot Bars
Risers provide clearance for the storage drawer units. A standard Composite Storage Drawer unit incorporates a set of 1" tubular metal foot bars.
Some situations require extra clearance to operate the drawers without obstruction. The solution is a set of 2" risers. A set equals 3 metal foot bars, each running the width of the unit (front, center, and rear). The foot bars are a tubular, square, or rectangular painted aluminum construction.
Risers are pre-installed at the factory.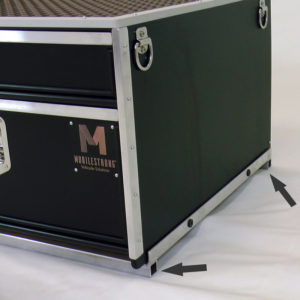 Save